How to start a trucking company?
The question a lot of experienced drivers ask themselves.
The follow-up question is when to start, and the answer is right now!
Don't worry about all the tiny details, it's not that hard as you may think!
What do you need to start?
A BUDGET FOR TRUCKS, EQUIPMENT AND TRUCKING COMPANY OVERALL
SOME PAPERWORK
To be a successful trucking business owner you should have some experience over the road.
Truck drivers usually start thinking about starting their own trucking company after 5 years of driving over the road on average.
Some need even more time, depending on how much they earn on average.
A lot of experience is a big plus, but not that necessary.
2 years of experience is enough.
Check your budget, you can start small and build your way up.
Although, if you ask some experienced owners how to start a trucking company, they usually say that it's best to start with a small fleet with around 3-5 trucks.
Buying the equipment
If you plan on buying only 1 truck for now, it's better for you to work with a carrier at first, under their authority, rather than on your own completely, since you will be leaving with a lot more money in the end.
Once you plan your budget, then you can start to think about how to start a trucking company.
Check which trucks you can afford.
You don't have to start with brand new trucks, you can find some good used ones.
Big companies usually sell them when their warranty expires, so you can get a good deal right there.
After you decide which truck you're going to buy, you should focus on the type of load you will be transporting.
Flatbed truckloads pay the highest rates.
That doesn't mean everything else is useless, but on an average flatbed, truckloads pay more than reefers and dry vans.
Choosing the right dispatch company for your trucking company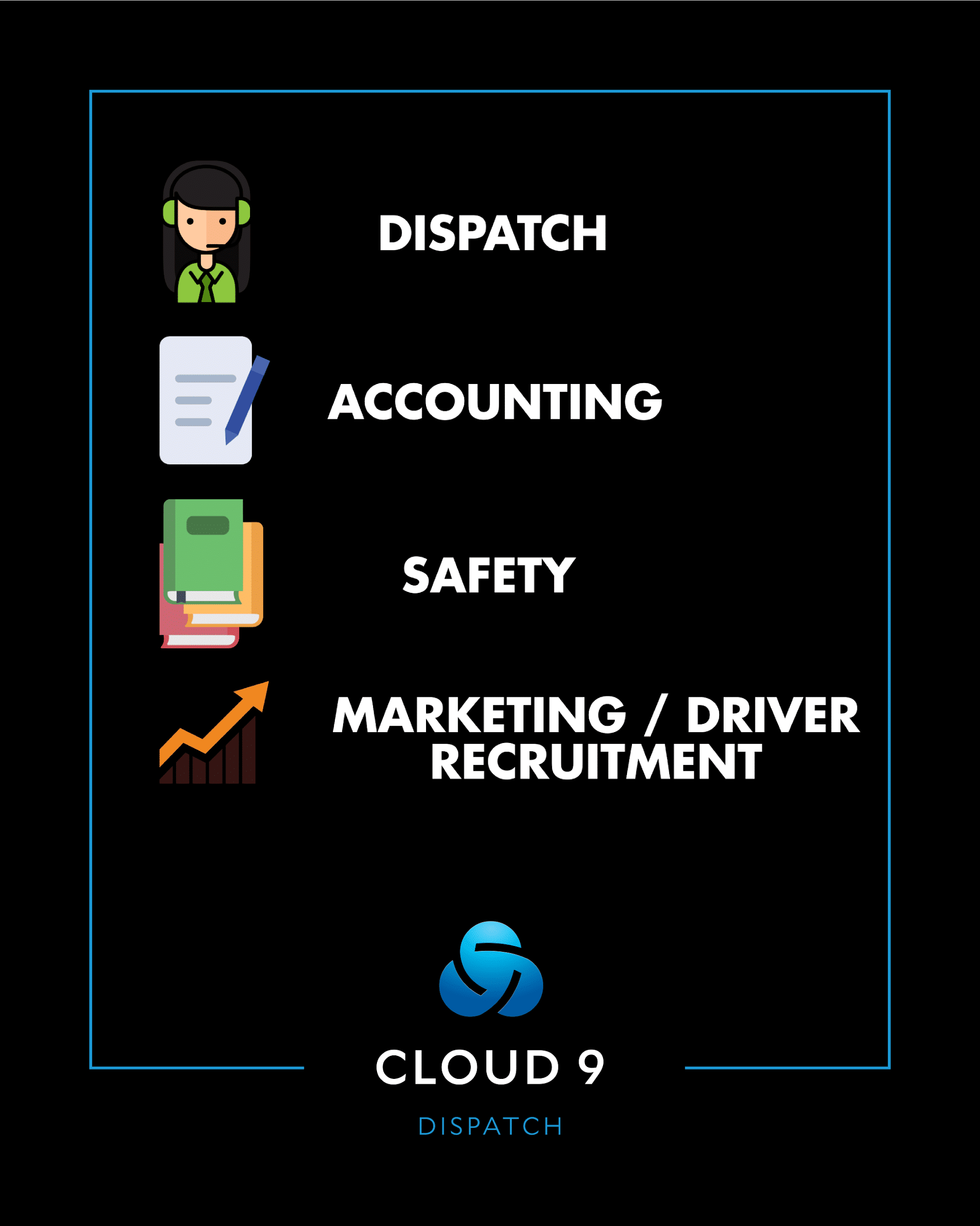 There are a lot of dispatch agencies and companies that offer their services to people who are researching how to start a trucking company.
You can hire them for dispatch services, to negotiate with brokers, navigate your team and make sure everything is in check so your company can do business as it should.
But, most of them offer only complete packages at very high prices = of 7% of the load.
So if you don't want to sign with them one service, for example Dispatch, you still have to pay for it.
C9 Dispatch offers you to choose only the service you need at the lowest prices!
You can choose between dispatch, safety, accounting, and even marketing services!
Everything you need in one place.
You can even get a FREE DISPATCH COURSE, so you can manage your trucks on your own!
You are your boss now, and you have to be able to choose only what you want!
Why would you need a dispatch company?
Choosing the right dispatch company or one at all is a decision you have to make when you're planning how to start a trucking company.
You probably have plenty of experience when it comes to trucks, but now you need to handle a lot more.
Dispatch agencies let you do you, and they handle the side of the business you are not able to.
For a small portion of your revenue (depending on the company) you can rest assured that everything in your company is functioning properly.
Now, what exactly would you need from a dispatch company, depends on what part of the trucking business you cannot cover yourself.
Dispatch agencies usually offer a package of services, taking care of your business almost entirely.
What makes C9Dispatch different is that you can pick only the services that you need, without the pressure to buy everything we have to offer.
Dispatch agencies can handle all of the following:
Finding loads in the trucking business
This is the most critical part of the trucking business. Finding the loads.
Some of the most experienced truck company owners like to have this part handled by the dispatch company.
Dispatch companies already know how to find and secure the load for their customers, so in the end, it remains the fastest and best possible solution for people who are thinking about how to start a trucking business.
Managing drivers and assigning the loads to them
A dispatch company can manage all the drivers in your fleet, and it assigns the loads to them in the most efficient way possible.
Dispatchers collect all the information they need and then assign the load to the right driver, so it can get transported in the fastest way possible and so you can get paid fast as well.
Maintaining motor carrier compliance
This part of the trucking business is important for your business to have a steady flow.
It helps your trucks stay on the road, making money, instead of wasting it.
Managing and handling the issues on the road (weather, delays, etc.)
Dispatchers also handle the complete planning of the route your trucks will take to deliver the load.
They make sure that absolutely everything is in check.
They have to know what weather the drivers will be facing, will there be any delays due to traffic and how to avoid them.
If there is a problem from point A to point B, the dispatcher is there to handle it.
Customer care
Customer care is also a service you can get with a dispatch company.
It can help you manage the relationships with your partners and potential customers.
All in one package.
Safety
Dispatch companies also take care of the wellbeing and safety of your employees.
They collect and check MVR records, manage random drug tests, monitor driver logs and time records and manage all the traffic incidents that may happen.
All the paperwork
A good dispatch company, like Cloud 9, offers all the back office services your trucking company needs.
All the paperwork, accounting, taxes, you don't have to deal with that kind of piles of paper, you can just micro-manage your company and make sure that everything is being done on time.
And a service that you can only get with C9Dispatch – Marketing and driver recruitment
A novelty in dispatch business – marketing and driver recruiting.
From numerous conversations and requests from our clients, we concluded that this is the service that dispatch companies lack.
It's way easier for us to get you a good driver than for you to look for one on your own.
We have a lot of experience in recruiting truck drivers and we know all the right techniques for recruiting and requirements and procedures they have to go through.
We can help you with marketing as well!
If you want to build a recognizable brand that screams authority and quality in the trucking business, then we can help you with that as well!
We have hundreds of marketing campaigns behind us, and we can create all the marketing strategies and campaigns your business needs.
From conventional to digital marketing, we handle it all!
Applying for trucking authority for your trucking business
One of the first things that trucking company owners can tell you when you want to know how to start a trucking company is all the paperwork that goes with it.
But it has to be done so you can earn trucking authority.
Before you can obtain a trucking authority, you have to register a DOT number.
Not to be confused with MCS-150 form, which is only for updating an existing DOT number.
To get a US DOT numberyou need to fill out this form and bear in mind that the processing takes around 25 days.
Once you have your DOT number, you can apply for operating authority here.
You will have to pay a $300 fee.
Get a process agent
You will need a process agent who will represent you for court papers purposes.
There are a lot of them on FMCSA, and you can choose one from this list here.
A process agent is responsible for completing the BOC-3 form on behalf of your company.
Insurance
To make sure your business maintains a positive balance, you should ensure your company just in case anything happens.
You are required to have some basic types of insurance, and anything extra is your personal choice.
You can find a list of insurances you need to have on this link.
Conclusion
Now you know how to start a trucking company!
You're on your way to make more money than ever!
And with our help, you will even have more free time than you ever had in your career!
You do you, we will do what we do best, and that's back office work that you don't have to do: dispatch, safety, accounting, and marketing!
If you need any further info, feel free to call us: 708 794 8999.